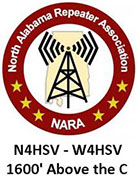 1. CLICK ON THE APPLICATION FILE BELOW AND OPEN. FILL OUT THE INFORMATION, THEN SAVE A COPY TO YOUR COMPUTER. SEND YOUR COMPLETED APPLICATION TO: secretary@n4hsv.net
OR TO THE ADDRESS BELOW.
2. PAY FOR YOU MEMBERSHIP BY USING THE PAYPAL LINK BELOW, CHECK, OR MONEY ORDER. MAKE YOUR CHECK OR MONEY ORDER PAYABLE TO "NARA" SEND TO :
NARA
P.O. BOX 18941
HUNTSVILLE, AL 35804
3. MAKE SURE THAT YOU PROVIDE AN EMAIL ADDRESS OR POSTAL ADDRESS SO YOU CAN BE CONTACTED BY OUR SECRETARY AND RECEIVER OUR NEWS LETTER.
ON LINE DUES ARE $18 + $1 SERVICE FEE